Job and training opportunities
Kompania Piwowarska hires more than 2,500 people across eight departments: Marketing, Sales, Production, Supply Chain, Finance, Legal, Corporate Affairs and HR. Our employees find work in many different locations all over Poland: our breweries (in Poznan, Tychy and Bialystok), the office in Warsaw and distribution centres across Poland.
We hire experienced individuals, but we also have a special offer for students. We provide a rich benefit package and other forms of non-wage compensation. Our employees are able to constantly develop their skills and explore clear career paths. We want them to see their job at Kompania Piwowarska as a passionate adventure and a way to discover the world of new challenges. If you want to work for us, check out our current vacancies and apply for a selected job. If you cannot find a suitable offer at the moment – leave us your CV!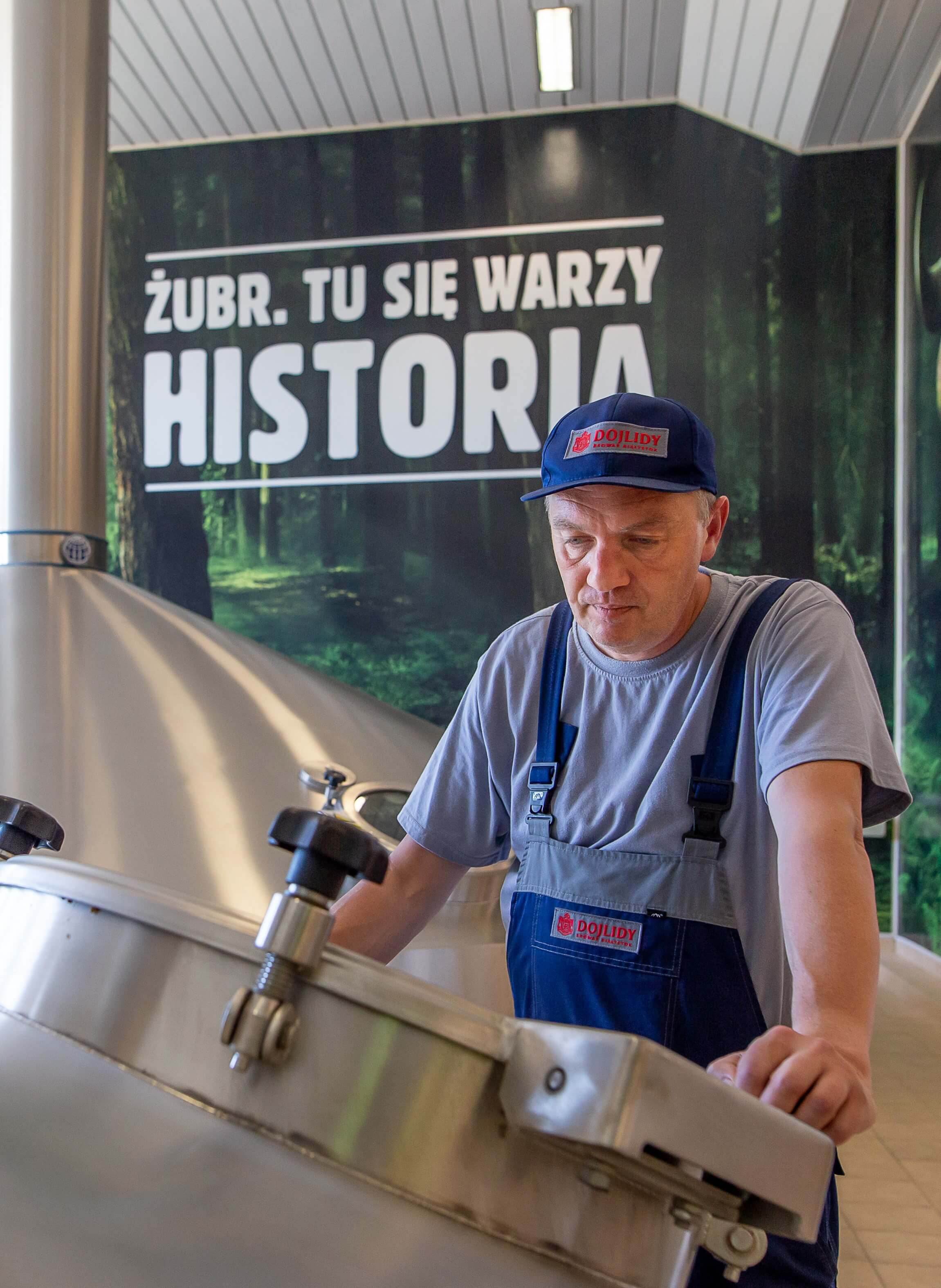 Who do we hire?
We hire professionals with extensive experience as well as students and graduates, whom we support in taking their first steps on their career paths. We are looking for responsible individuals eager to take up new challenges and expand their knowledge of the interesting beer industry.
Who do we look for?
We would like to hire people with excellent leadership skills, capable of working together in teams of various types. Our employees should be curious, daring, responsible and willing to take up challenges. We are looking for individuals with well-developed interpersonal skills, fluent in English and, above all, passionate about working in the fascinating beer industry.
Stage I
Apply online or contact Human Resources directly.
Stage II
Take a meeting with an HR officer and your immediate manager.
Stage III
Take part in a survey regarding your specific role and receive individual feedback.
Etap IV
Take a meeting with your top management supervisor.
Why work at Kompania Piwowarska?
Because we offer a pleasant and informal atmosphere and inside access to the fascinating beer industry. We can assure that you will be surrounded by passionate colleagues and able to work on the biggest projects with local and global beer brands on a daily basis. Moreover, you can count on numerous development opportunities across different departments, modern work environment and wide range of employee benefits – including pubs open to all KP employees.
Who do we look for?
Working for Kompania Piwowarska is not only about a great adventure, but also about major projects. That is why we seek 3rd, 4th or 5th year students or graduates with great interpersonal and leadership skills, fluent in English and able to work in a team. A perfect candidate is open to new challenges, creative, daring and responsible.
Stage I
Publication of a job ad
Stage 1 assumes publication of a job ad at kp.pl and chosen employment sites, including social media and local newspapers.
Stage II
Collection of candidate applications
The candidates' data is gathered electronically with the use of a system facilitating collection of all applications in one place. You will be asked to fill in a short form and enclose necessary application documents. At this stage, we also verify the applications of candidates who spontaneously sent their CVs to our base.
Stage III
Selecting applications
Our recruitment team selects people who meet our expectations. Therefore, for many candidates it is a decisive stage of the process. We will notify you, if you advance to the next stage.
Stage IV
Skills verification
Depending on the job, further stages can encompass phone interviews and/or skills and language tests. You might be invited to take part in the Assessment Centre.
Stage V
Job interview
If you are successful with the phone interview or your tests, you will be invited to a face-to-face interview. This will give you an opportunity to meet your immediate manager and HR officer. We arrange for our candidates to meet at least two people to make sure that our assessment is objective.
Stage VI
Meeting the manager
The last stage features a meeting with a high-level supervisor. If you succeed at this stage –welcome at KP!
Job ad
Read our advertisement thoroughly, paying attention to both the duties related to the job and the requirements we have set out for the candidates. Imagine your typical day at work and the tasks you would have to complete. If this is what you are looking for and you think you can meet our expectations, contact us. Your experience and competence will be verified already at the initial stage of the recruitment process.
Application documents
The document we always require is CV, but you can also send us your cover letter. During the application process, you might also be asked to fill in a short application form. Make sure that all the documents are "custom-made", do not send mass emails with the same applications, and approach every potential employer individually.
CV
Your CV is your chance to make a great first impression and it helps us decide whether to proceed with the recruitment process. Therefore, it is worth spending some time working on the document to convince us that we should meet you in person. A few things to pay attention to:
prepare documents in the required language version,
if you decide to include your photograph, please make sure that it is professional and up-to-date,
when describing your professional experience, list the duties or projects you have completed along with the name of the employer, your function and time of employment – specify your responsibilities and completed tasks,
highlight any additional experience or interests relevant to the job,
your CV should be in line with the nature of the job you apply for,
be careful not to embellish your achievements - remember that you will have to confirm what you have written during the interview,
always include your consent to process your personal data.
Cover letter
It is not mandatory, but we would like to read it to get to know you better. Your letter should be well thought out - show us that you are the candidate we should choose and explain why Kompania Piwowarska is the company you want to work for. Describe the most interesting experiences and projects you were involved in, to demonstrate that you are a good candidate for the job. Explain any inconsistencies in your CV, e.g. why you are applying for a job in Warsaw when you live in Gdańsk.
How to prepare for a job interview
Before the interview:
recall interesting tasks and projects you have been engaged in - we will definitely ask about it during the interview,
prepare answers to typical questions (including financial expectations),
learn about the company - visit our website: get familiar with our brands and the sector you want to work in,
prepare questions for the interviewer - you will have an opportunity to ask them during the interview; as your employer, we want you to use that time to get all the information you need before making the decision about working for Kompania Piwowarska,
make sure you look and feel good,
be yourself,
do not be late and if you cannot come to the interview on time, call to inform us about it - we will definitely find a solution, as we respect those candidates who respect us.
What makes us special
Good atmosphere
Passionate people working for Kompania Piwowarska create a truly unique atmosphere of cooperation and creative thinking. KP is proud of its open organisational culture. In order to achieve the best results as a team and the company as a whole, all employees are on a first name basis and gladly share their experience and knowledge with others. Everyone can freely express their opinions about the company's activity. We invite our employees to take part in engagement surveys, meetings with the management board called Roadshows, and numerous volunteering initiatives within the Kompania of Volunteers programme. Together we are proudly building Poland's top quality brands.
zwiń
We provide our employees with
beer allowance and access to company pubs

MyBenefit programme and Multisport card

private healthcare services - Medicover

insurance co-financing

co-financing of meals in our canteens

attractive loans
KP Intro
An introductory programme for new employees aimed at preparing them to work at Kompania Piwowarska through integration with their new business environment (meeting colleagues, learning about the company strategy, vision and mission, exploring the fundamental processes, tools and systems) and transfer of the basic knowledge about beer and our brands. During KP Intro, our employees get familiar with the concept of the "Beer Ambassadors" programme as well as various social responsibility issues.
Sales Academy
A comprehensive 5-day-long training programme for all new employees of the Sales Department covering commercial topics, as they are necessary to be efficient in the organisation and the marketplace. The training modules cover the following areas: Marketing at KP, Trade Marketing at KP, Sales at KP, Category Management, Trade Mathematics, Role of the Sales Representative, Elements of Law, KP Strategy, Beer Production and Beer Serving.
The ABCs of Alcohol
A training session discussing the alcohol policies pursued at the company and the dangers related to irresponsible drinking. Right from the beginning, Kompania Piwowarska has promoted responsible and moderate alcohol consumption. We want our employees to be comfortable in each other's company, have a good time and enjoy our excellent beers without exposing them to the negative consequences of reckless or excessive drinking.
e-Learning Workshops
The employees of Kompania Piwowarska can take advantage of several dozen e-learning training programmes available on the internal development platform. They are focused on the areas of personal development, management skills as well as internal processes and procedures.
Basic Brewing
Training sessions for all employees of the Operations Department, covering basic knowledge about the process of beer production. The programme includes: a short history of beer, general beer knowledge, general information about raw materials, basic process parameters and stages of the production process.
Advanced Brewing
Training sessions for all employees directly involved in beer production and for experts. The programme covers specialist topics and is delivered by a trainer with extensive practical knowledge and an expert in beer production. The training explains the parameters relevant to process quality and flow, key indicators and practices in terms of flavour, aroma and foam stability as well as quality and microbiological standards.
GEM Training
A training programme based on the lean philosophy, which is focused on constant self-improvement, custom-made for the internal functioning of the company and aimed at operational excellence (Manufacturing Way). The workshops are divided into sections or fundamental practices (GEM) covering: work standardisation, visualisation and ways of measuring performance, teamwork, continuous improvement and loss prevention, environmental and health safety, production flexibility, quality and assets management.
Beer Ambassadors
All employees take an e-learning course that covers the most important elements of our beer ABCs and refreshes their knowledge about KP brands.
After hours
Our employees are full of passion. They keep proving it every day at work and also after their job is done. We are very proud of their involvement in voluntary work, participation in sports challenges and willingness to help the needy.
About program
"Kompania of Volunteers" is a corporate volunteering programme that was created thanks to and for volunteers who care about their local communities. For years, our employees have been actively supporting institutions and non-governmental organisations, and they do so with energy, openness, and, above all, out of the goodness of their hearts. They share their time, skills, and knowledge, while Kompania Piwowarska allows them to engage in social activities also at work, providing financial and organisational support.
Who we help
The support we provide within the Kompania of Volunteers programme is in line with our sustainable development strategy "Bet on Beer" and aimed at adults only.
The support we provide within the Kompania of Volunteers programme is in line with our sustainable development strategy "Bet on Beer" and aimed at adults only. Since 2016, we have been proudly supporting the WIOSNA Association within the Noble Box programme. Kompania Piwowarska co-funds preparation of the packages and helps deliver them to warehouses and families in need. The first edition of the programme has engaged nearly 75% of our employees. The Noble Box turned out to be the greatest volunteering programme in the history of our company, and we keep pushing it forward every year.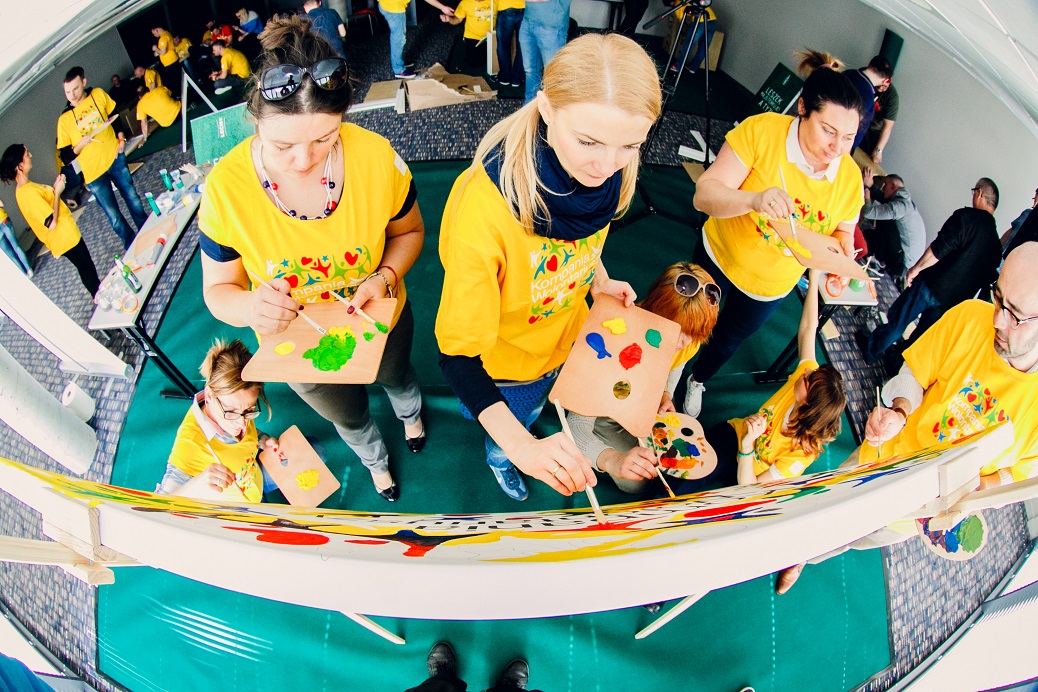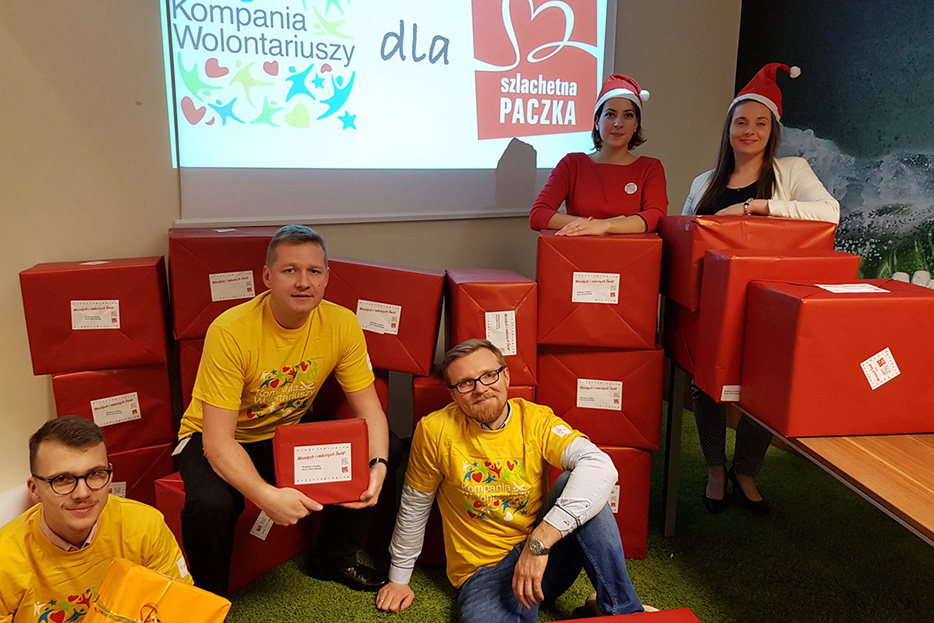 Tyskie Cup
Tyskie Cup is an annual charity football tournament for the employees of Kompania Piwowarska. The winners can dedicate their performance to chosen aid agencies from their regions. In 2017, for the first time ever, the matches took place at the PGE National Stadium in Warsaw – previously, the tournament was organized in smaller venues across different cities, including Poznan and Tychy.
The teams compete for a few hours in groups to then advance to the knockout stage, but, in fact, there are no losers in the tournament – even the eliminated teams receive commemorative trophies and diplomas. Besides the final result, what matters most is the fun atmosphere and opportunity to help others. Each team can dedicate their performance to a specific social organization that, in case of a win, will get a donation from Kompania Piwowarska.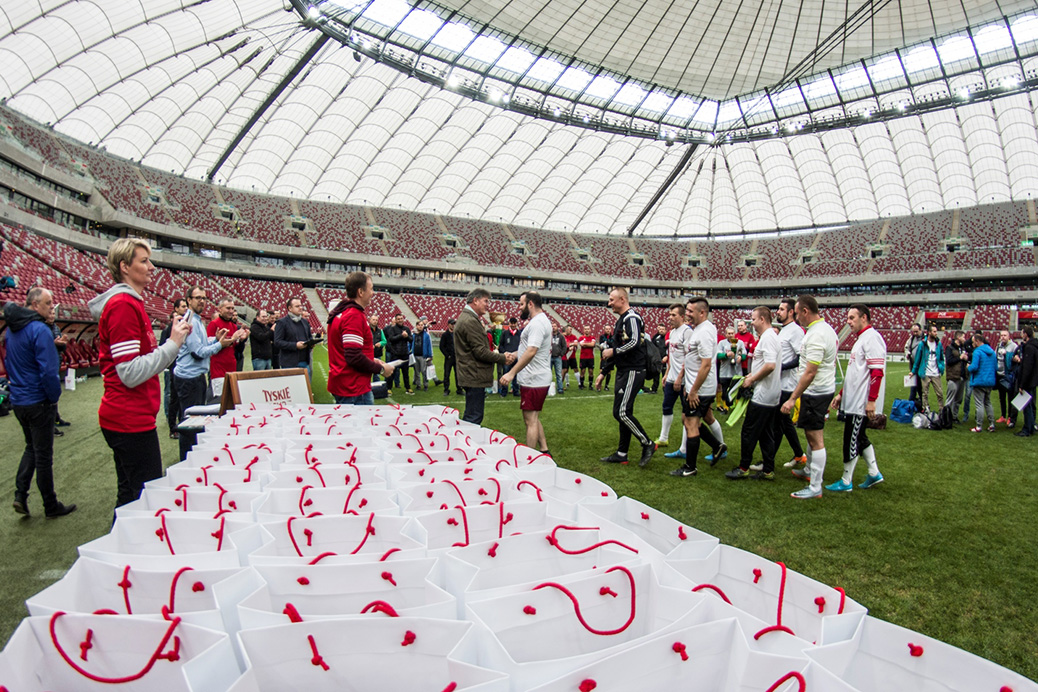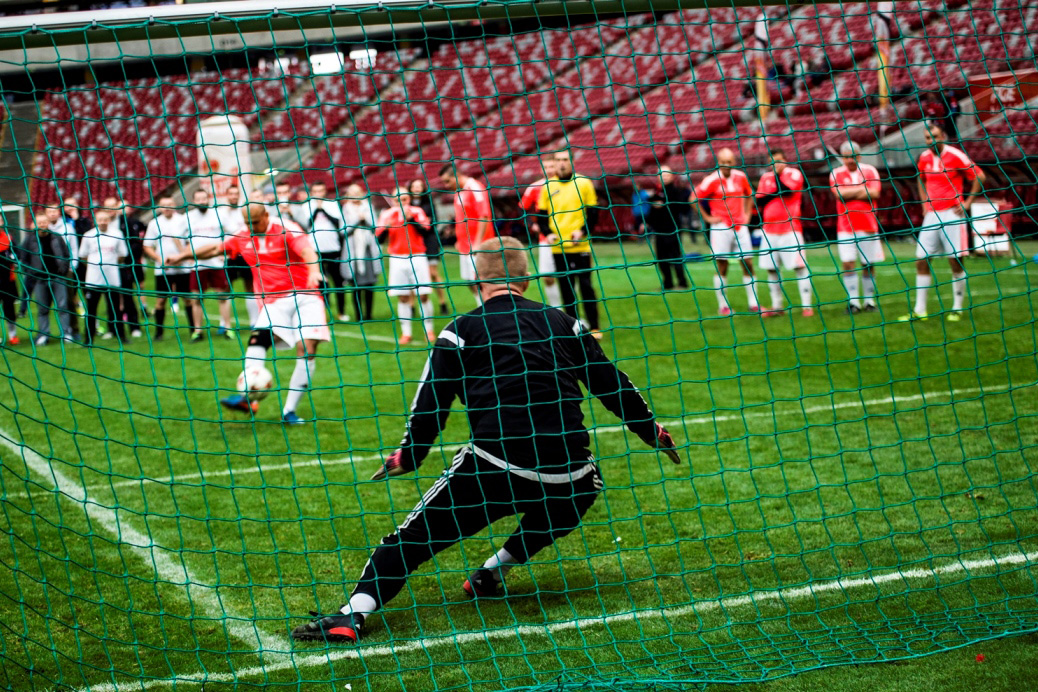 Bet on Exercise
Bet on Exercise is a programme that we have been executing for a few years now to promote physical activity among Kompania Piwowarska's employees and business partners, including running, walking, cycling and other popular forms of exercise. The participants are being encouraged to healthy sports competition and teamwork, while pursuing a charity goal and taking part in special challenges and organized sports events under the patronage of Lech Free.
Bet on Exercise combines entertainment and promotion of a healthy, eco-friendly lifestyle, while simultaneously supporting a charity goal. The participants register the distance they have managed to cover with the use of a sports activity app on their smart phones or GPS watches, and every kilometre brings them closer to achieving a mutual goal.
As a result of the campaign, our employees have planted 3,000 trees in the Knyszyn Forest. Thanks to their involvement, KP has already provided financial support to three tandem clubs for the blind from Poznan, Tychy and Bialystok. This year, after reaching the ambitious goal of 300,000 km, KP will cover the cost of a prosthesis for one of the patients of the Poland Business Run foundation.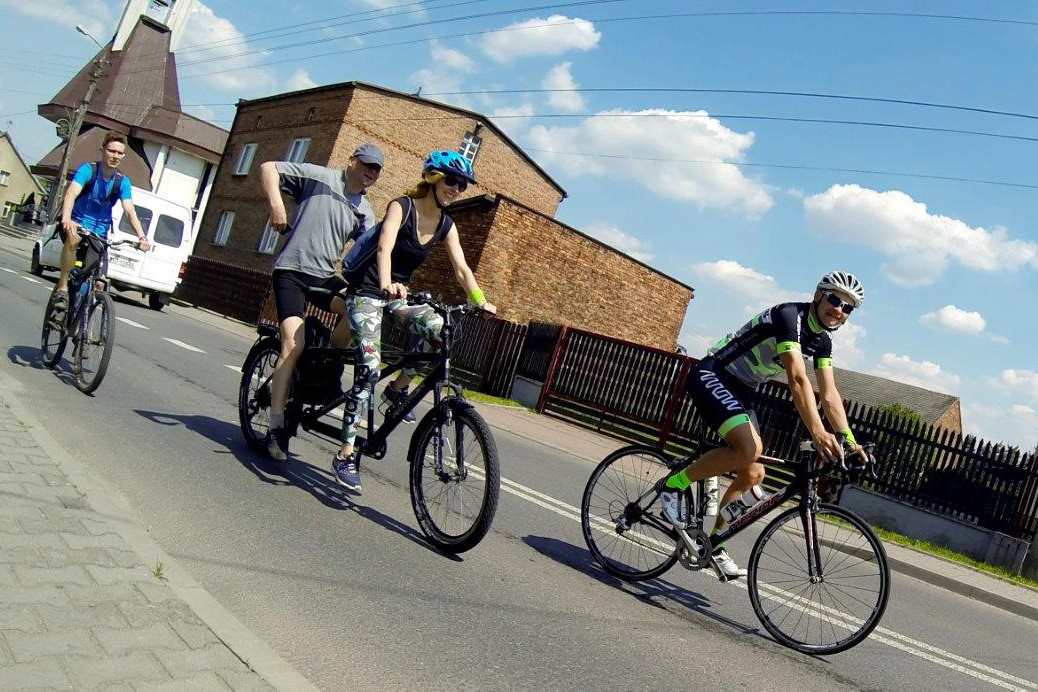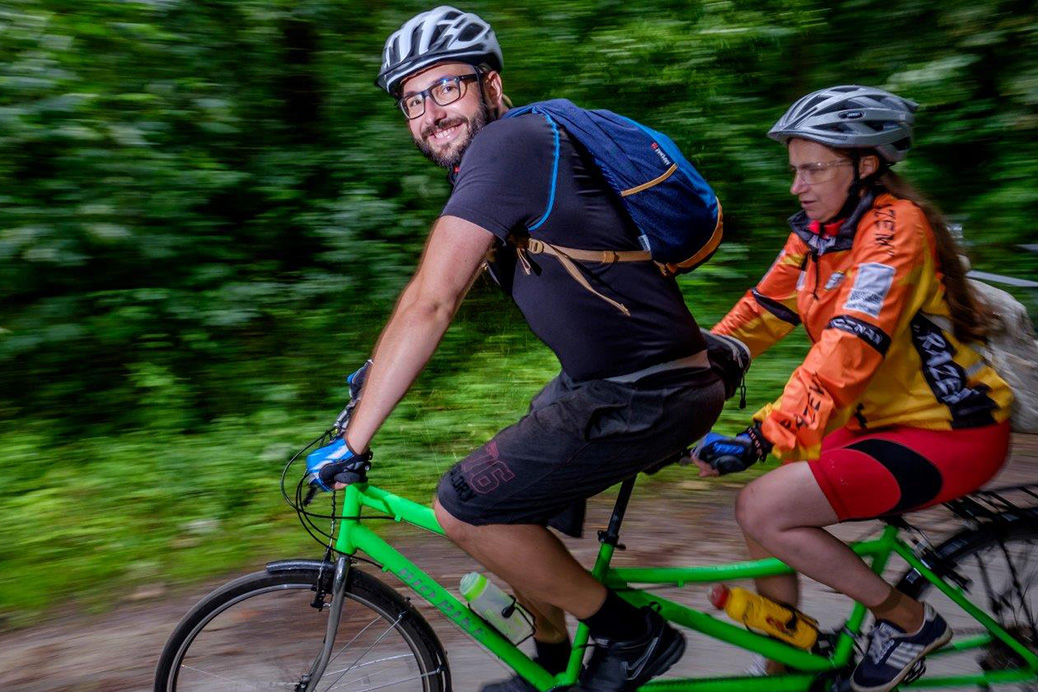 Zostaw cv
Zgodnie z art. 24 ust. 1 ustawy z dnia 29 sierpnia 1997 r. o ochronie danych osobowych (tekst jednolity: Dz. U. z 2016 r. poz. 922) informuję, że Administratorem Pani/Pana danych osobowych jest Kompania Piwowarska S.A. [rozwiń] z siedzibą w Poznaniu (61-285), przy ul. Szwajcarskiej 11, dalej KP. Pani/Pana dane osobowe przetwarzane będą w celu udzielenia odpowiedzi na przesłane pytanie. Pani/Pana dane osobowe nie będą udostępniane innym odbiorcom danych. Posiada Pani/Pan prawo dostępu do treści swoich danych oraz ich poprawiania, podanie KP danych osobowych jest dobrowolne, aczkolwiek niezbędne do udzielenia odpowiedzi. Pani/Pana dane osobowe objęte niniejszym formularzem zostały powierzone Spółce Call Center Poland S.A. z siedzibą w Warszawie (02-675) przy ul. Wołoskiej 16 w celu wsparcia procesu udzielania odpowiedzi na zadane pytania.